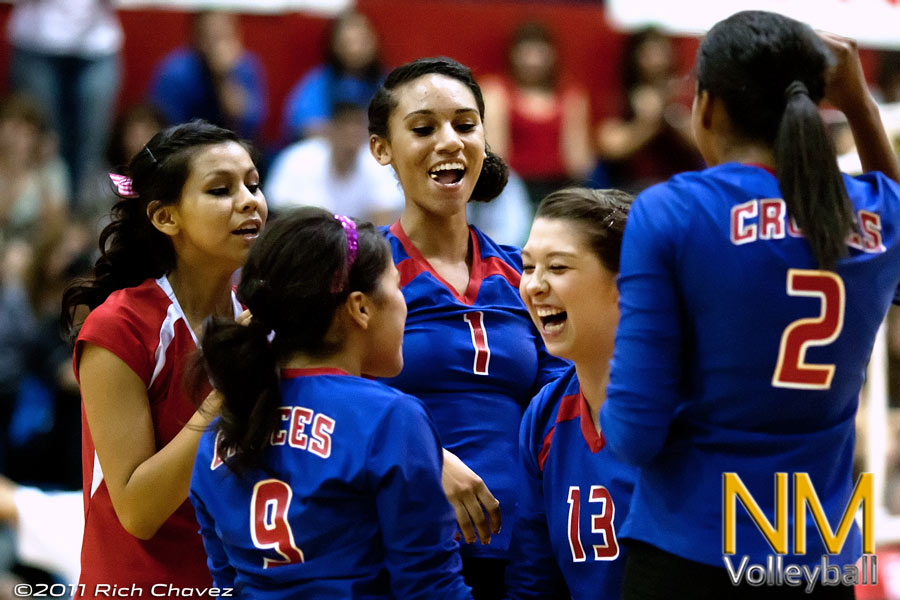 Scores from Last Night
Cleveland tops La Cueva
The Storm bested the mighty Bears of La Cueva in five on Tuesday night, 25-17, 21-25, 25-20, 23-25, 18-16.
Cassie House piled up 18 kills to lead the Storm, with Sarah Hattis adding 17. On the Bear's side of the net Julia Warren had 18 kills and Jessie Grevin had 12.
The Storm travel Gadsden on Saturday for a 2 PM match with the Panthers. La Cueva plays host to the Rio Rancho Rams on Thursday evening.
St. Pius defeats Sandia
The Sartans defeated the Matadors, 3-2 (25-17, 20-25, 21-25, 25-17, 15-10) at Sandia on Tuesday.
Lexi Biondi lead the pack with 19 kills on the night, with both Lauren Roveto and Sara Weber contributing 15 on the night.
The Sartans host Atrisco Heritage on Thursday, and commence district play next Tuesday against Albuquerque Academy.
Other Scores
Corona 3, Mountainair 0
Hatch Valley 3, Socorro 0
Texico 3, Tucumcari 0
Desert Academy 3, Evangel Christian 0
Sandia Prep 3, St. Michael's 0
Gallup 3, Valencia 0
Los Lunas 3, Belen 0
Dulce 3, Questa 1
Cibola 3, Eldorado 1
Coaches Polls Out Today
The weekly coaches poll should be out today. I'm Looking forward to what the coaches have to say about their teams and peers. I'm also wondering if the damage Pojoaque did over the weekend will reflect on the outcome of the 4A and 5A teams. It shouldn't, but you never know!
Tonight's Games
| | |
| --- | --- |
| 04:00 PM | Bernalillo High School vs. Los Alamos High School |
| 04:00 PM | Ortiz Middle School vs. De Vargas Middle School |
| 04:00 PM | Los Alamos High School at Bernalillo High School (9th Grade) |
| 05:00 PM | Vaughn @ Santa Fe Waldorf |
| 05:00 PM | Los Alamos High School at Bernalillo High School (Junior Varsity) |
| 05:00 PM | Santa Fe Prep at Dulce High School (Junior Varsity) |
| 05:00 PM | Jemez Valley High School vs. Menaul High School |
| 05:30 PM | Santa Fe Prep vs. Dulce High School |
| 06:30 PM | SFP vs Dulce |
| 06:30 PM | Espanola Valley High School at Santa Fe High School |