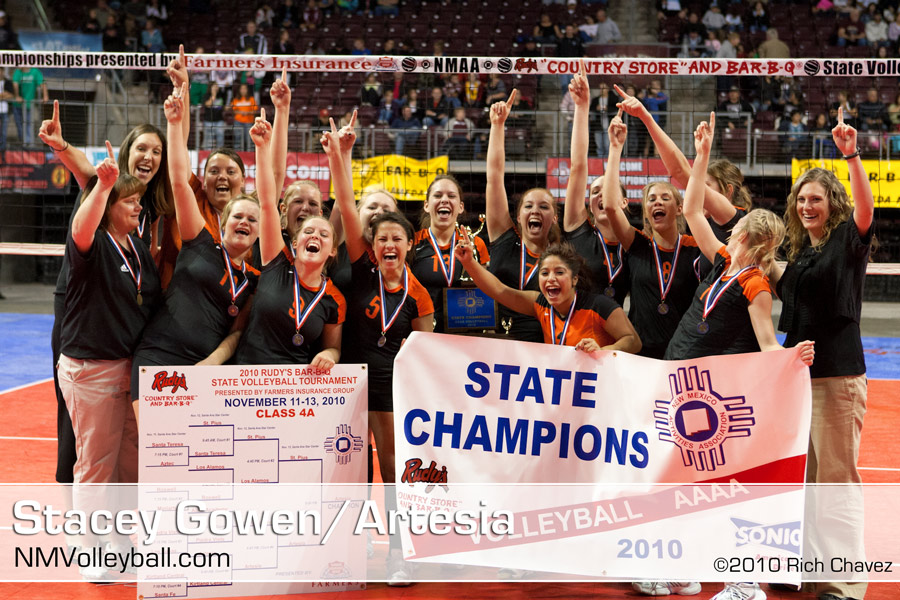 It was impressive enough when Al Rosen was announced as head coach at Centennial High School, but the latest hire for New Mexico's newest high school volleyball program is equally impressive.
Stacey Gowen, the former Artesia's head coach is now the assistant volleyball coach at Centennial.
With a successful program already in place in Artesia, the lure of improving her volleyball IQ by assisting Rosen was just too hard to resist.
"Al gave me an opportunity to come work with him, and I think it's a good move for me," said Gowen.
"I love to be in Artesia–let me tell you, the Artesia school system is one of the best in the state. Cooper Henderson (Artesia AD) is a great boss, we have a great AD and we have administrators that back your program," said Gowen. "When we went 0-20 four years ago, they still backed us and believed what we were doing here, and it was so hard to say goodbye to such a great school here, but I think it's just a great opportunity to move and learn some more."
That's not to say the administration in Las Cruces has been any less supportive. "Mike Montoya (Centennial principal), has been so nice about this whole thing," Gowen said. "Al approached him about hiring me and right away Mike had open arms and helped me with the application process and getting hired. I'm looking forward to working under some great leaders."
Centennial will begin playing in Class 4A for two seasons, and as the school's population increases, jumps to 5A with the 2014 season. With seasoned and well established programs in District 3-5A like Las Cruces and Mayfield, the elevated level of play is no doubt a draw.
"I think I can learn a lot from Al, and I think it's going to be fun in a bigger town," said Gowen.
With four state championships in the last two year between the leaders of the Centennial program, it looks like the volleyball scene will be pretty fun in southern New Mexico for years to come.