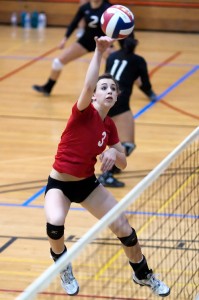 Lexi Biondi, an outside hitter for St. Pius X, that has been garnering some well-deserved attention, not only for her skills on the court, but also in the classroom.
Biondi's motivation has earned her a 3.9 GPA and the title of co-captain on the 2012 Sartan squad, but now she's hoping that same drive can propel her squad to another appearance in the Class 4A championship game, and ultimately, the win.
St. Pius has been poised to win the 4A title the last two years, falling short to Artesia's talented and deep squad both times. Now back at the drawing board, St. Pius is taking every opportunity to hone all aspects of their game, hoping to make another run for the blue trophy.
Biondi first caught my attention several years ago playing club for the NM Juniors, and during a dominating match against El Paso APAC in the 2010 SURVA Regionals, the athletic Biondi demonstrated she was the real deal.
Make sure you check out her awesome website, www.lexibiondivolleyball.com for all the latest stats and news on Lexi!
How's your summer been?
It was really good, we've been traveling a lot, but it was a fun summer.
What did you do you volleyball-wise?
Open gyms, camps, just playing with the team and getting warmed up for the season.
Did you play any club?
No, it was getting hectic with school and I needed a little bit of break to get caught up with everything. I guess you could also say it reinforced my love for volleyball–it made me realize how much I missed it and how much I want to keep playing and take it further.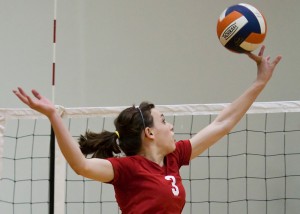 What events are you involved in with track?
Javelin, high jump, long jump, triple jump and hurdles. It's gets crazy, but it's fun.
Tell me about this year's St. Pius team
We have a pretty good team; I'm really excited about it. We have a strong player in every single position.
Lauren Roveto, who's been with me on the team all four years; she's definitely going to be strong. Caitlyn (Martinez) in the middle, Mercedes (Pacheco) as our libero and Caley (Skroch) is going to be our setter, which is going to be awesome. We also have some younger girls who are really, really good that have some potential for the future, so I'm really excited to be playing with them.
What do you think the team is going to miss with (former OH) Sara Weber's departure?
She was a great player to be on the team. She was always supportive of everyone else, also very strong in her position, very competitive and had tons of sportsmanship. She was also very good to about teaching the rest of us how the game works, and how to play it correctly.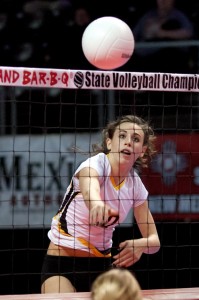 St. Pius has come in second place to Artesia two years in a row. What did you walk away with that experience? What made you stronger?
It's said to be a winner you have experience losing; and it's definitely hard to get that far, and then lose in the championship. We've taken a lot away from it, and there are lessons to be learned.
It's going to come down to who wants it more and who works hardest for it, so hopefully that will work a little better for us this year. I think we have a really good team, we all get along great, and we're already gelling. I think it's the biggest thing; working hard for it all the way through and not giving up at any point, no matter what the score is. Put up a fight, and if you're going to lose, be beat, but don't beat yourself.
How do you keep up your 3.9 GPA while doing all this stuff?
I've been taught to work hard and keep the grades up, because academics do come first when it comes down to it all. I find myself to be more productive when I'm busier. I know it might sound strange, but when I have a busy schedule I seem to get my work done a lot quicker, because you really don't have a choice.
All through school my teachers and my family have taught me to push through that stuff and get it done, and not to procrastinate.
Who do you think are going to be teams to beat in 4A?
I think going into it there are always a few teams you know will be tough competition; they're going to come out the hardest. You never really know until you play them, because just like us, their teams are losing people, and they're gaining different people, so teams shift from year to year.
What are your goals for your senior year?
Taking it game by game is my focus this year, just taking a step back and not looking at the giant, huge goal at the end of the season. Literally, looking at the little improvements every single practice and every single game are really important to me. I really want perfect my hitting, working on the small things; really kind of break down the smalls things I do and what the team does and build it up from there. Have a good mentality on the court and keep improving on finishing my senior year really strong.