Games to Watch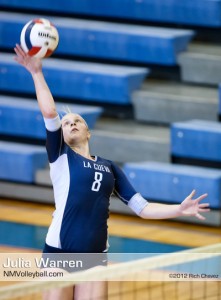 La Cueva @ Cleveland 6:30
This one has been circled on my calendar for some time. Two of the best hitters in New Mexico in Julia Warren and Cassie House and two of the best setters in Brianna Ainsworth and Brandi Torr face off at Cleveland.
Cleveland comes into the match with some clear advantages; a prior win against the Lady Bears and home court; the formidable House/Lawson team doesn't hurt either.
La Cueva hasn't been pushed very hard since their meeting with Academy at the APS Metro Tourney, where they dropped two sets in their win against the Blazers. In their match against Las Cruces, the Bears looked a little shaky in the first set and lost their second set to the 'Dawgs. Statistically, Warren had her worst match of the season against Las Cruces, hitting .244% and a kill percentage of 46.7%.
If La Cueva wants to give the Storm a run for their money, Warren will need to get hot (73.0% kill percentage at their last meeting), and the rest of the squad needs to chip in.
Las Cruces @ Mayfield 7:00
This will be a good match for the atmosphere and rivalry, if not the competition. Mayfield has been hindered by some injuries and the fire power has not been consistent. Las Cruces has an ever improving cadre of hitters, including Lexi Dotson and Kaily Madden.
Tonight's Games
La Cueva @ Cleveland 6:30
Cibola @ Abq Academy 6:30
Sandia @ St. Pius X 6:30
Eldorado @ Del Norte 6:30
Las Cruces @ Mayfield 7:00
Alamogordo @ Gadsden 7:00
Carlsbad @ Artesia 4:00
Hobbs @ Roswell 7:00
Albuquerque @ Highland 6:30
Atrisco Heritage  @ Valley 6:30
West Mesa @ Rio Grande 6:30
Aztec @ Mancos (CO) 6:00
Shiprock @ Kirtland Central 6:30
Bloomfield @ Piedra Vista
Portales @ Goddard 7:00
Miyamura @ Grants 4:00
Valencia @ Gallup 6:00
Los Lunas @ Belen 7:00
Hope Christian @ Pojoaque 4:00
Clayton @ Raton 4:00
Taos @ Peñasco 6:30
Cobre @ Socorro 3:00
Hot Springs @ St Michaels 7:00
Zuni @ Tohatchi 4:00
Rehoboth @ Navajo Pine 5:00
Newcomb @ Navajo Prep 5:00
Ramah @ Crownpoint 6:00
McCurdy @ Pecos 4:00
Santa Fe Prep @ East Mountain 6:00
Mora @ Santa Rosa 6:30
Estancia @ Laguna Acoma 4:00
Tucumcari @ Texico 4:30
Jal @ Eunice 5:00
Hatch Valley @ Lordsburg
MVCS @ Tularosa 6:30