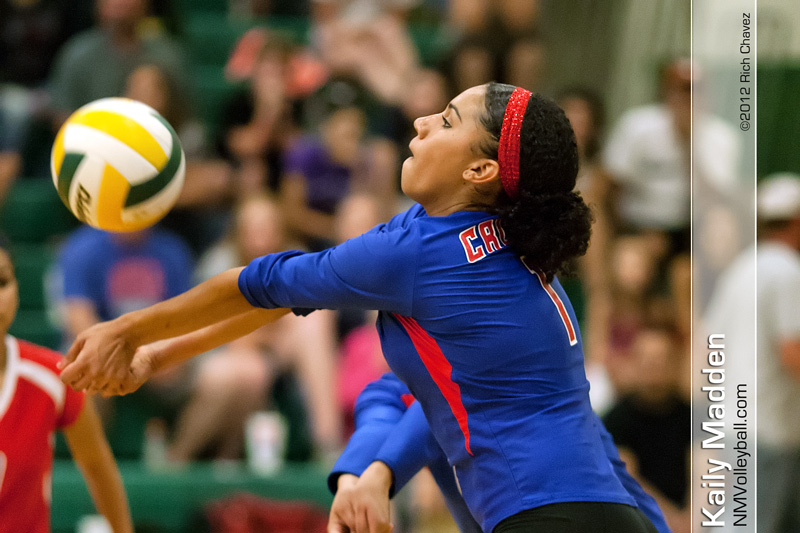 Cruces wins at Mayfield
In a tightly contested and dramatic match where yellow cards were plentiful, the Bulldawgs manage to squeak by a suprisingly scrappy Trojan squad on Tuesday night.
With two key hitters out for disciplinary reasons, the Trojans managed to take the match to five sets with some smart play at the net and some tenacious defense. My favorite play of the night was when Mayfield's Alyssa Marin stretched out to pick up the Cruces attack, and Clara Salopek charged into the backcourt, and the cheerleaders, to get the ball clear back into the Cruces side of the court; overall a very Gadsdenesque effort on defense.
The game, not without its controversy, saw two Trojans pick up yellow cards and Cruces head coach Keith Leupold get carded after complaining about the line judge's performance. There were some missed calls throughout the match, including an antennae violation on a Cruces attack in the final set, that was replayed after a clear decision could not be made. I'm not sure if the stoppage to discuss the call had an impact on the match, it's the last thing that should affect the outcome of the game–but it just wouldn't be a Mayfield/Cruces match without the drama.
3-5A just got interesting again.
Bulldawgs win over Trojans (LC Sun News)
La Cueva falls at Cleveland
In what many are calling the 5A State Championship preview, Cleveland managed to make up their two set deficit, and win the match against La Cueva.
Read more in the Albuquerque Journal
Scores from last night
Las Cruces 3 – Mayfield 2 (25-21, 14-25, 26-28, 26-24, 15-13)
Roswell 3 – Hobbs 1 (25-23, 18-25, 25-20, 25-18)
Abq Academy 3 – Cibola 2 (18-25, 25-23, 25-21, 21-25, 15-7)
Sandia 3 – St Pius X 0 (25-17, 25-22, 25-21)
Albuquerque 3 – Highland 0 (25-6, 25-10, 25-15)
Valley 3 – Atrisco 1 (25-20, 8-25, 25-13, 25-8)
Artesia 3 – Carlsbad 0 (25-10, 25-13, 25-16)
Eldorado 3 – Del Norte 0 (25-18, 25-23, 25-19)
Los Lunas 3 – Belen 1 (25-13, 25-23, 20-25, 25-18)
Hope Christian 3 – Pojoaque 2 (25-21, 25-18, 16-25, 13-25, 15-10)
Cleveland 3 – La Cueva 2 (20-25, 21-25, 25-20, 25-18, 15-6)