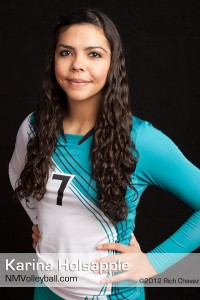 Congrats to Santa Teresa's Karina Holsapple for signing with the University of the Southwest.
Holsapple, a setter, racked up 166 assists, 30 aces and 117 in her senior year.
The University of the Southwest, located in Hobbs, NM, is coached by Sonya Petroski. The Mustangs went 9-23 (4-7) in the 2012 campaign.
"Karina is such a hard worker. She has a positive attitude and has such a deep love for the game" said head coach Sonya Petroski. " Karina is a versatile athlete that will definitely impact our program now and in the future."
Read more about Karina's signing.
Good luck, Karina!