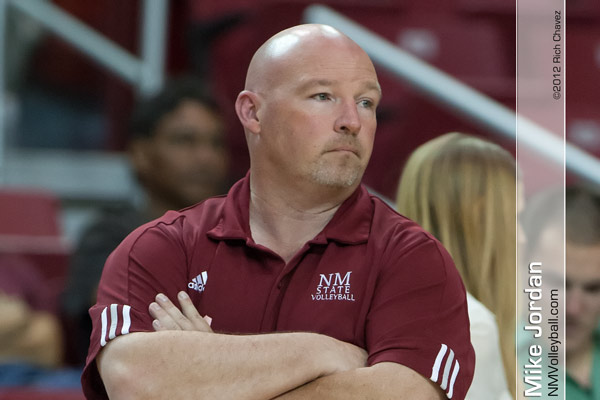 …and it's official. Courtesy of NM State Athletic Department.
LAS CRUCES, N.M. – New Mexico State volleyball head coach Mike Jordan announced on Tuesday, Aug. 6, that he has added Ben Wallis to his staff as an assistant coach starting immediately.Wallis returns to NM State after coaching at the University of New Mexico for the past two years. His primary responsibilities with the Aggies include scouting, defensive games plans while also assisting with recruiting, camps and on-court coaching.

"We're excited that Ben is an Aggie again," Jordan said.  "He'll help a great deal on the court, do a lot of the video work and help a great deal with recruiting as well."

Wallis, who is now in his second stint with NM State, brings more than a decade of coaching experience with him to the program.  He was an assistant under Jordan from 2006-08.

"I am excited to be back where I started and at my alma mater," Wallis stated.  "Volleyball is my passion and I am excited to learn more from a coach like Mike who has taken this program to the NCAA tournament multiple times."

Before Wallis helped UNM coach Jeff Nelson he was the head coach for Cleveland High School in Albuquerque from 2009-11. While there, he led his team to the state final in just his second year of the program's existence.  Wallis also gained experience as a varsity assistant coach at El Paso Franklin High School, Rio Rancho High School and as a head coach at Gadsden High School in Anthony, New Mexico.

Aggie fans have the chance to meet coach Ben Wallis and the rest of the Aggie volleyball team and coaching staff at the Annual Aggie Alumni Match, Aug. 24 in the Pan American Center.  The event is free.