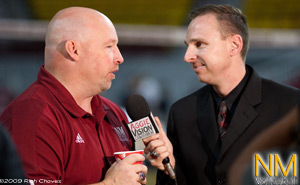 LAS CRUCES, N.M. – Head coach Mike Jordan announced on Wednesday, May 20, that the 2015 New Mexico State volleyball schedule is finalized and is now released.
Coach Jordan, who heads into his 18th season as the head coach of team, put together a schedule that features 13 home games, including a tournament that features the likes of Oklahoma, Robert Morris, Denver and Brown University.  The Aggies will also face top 25 teams such as Texas, who finished the 2014 season at No. 5 nationally, along with Arizona and Arizona State, both of which were in the top 20 to end the season.
The Aggies open things up with the Annual Alumni Match on Aug. 22 at 4 p.m. in the Pan American Center.
"I know our team is really excited to play this schedule'" said head coach Mike Jordan.  "The first four weekends are exceptionally challenging as always.  We've got quite a few matches against what will be nationally ranked teams.  We'll have quite a few opportunities to play our way into the top 25 again and if we're healthy I feel great about our chances."
NM State opens its season Aug. 28-29 at the Air Force Tournament in Colorado Springs, Colo., taking on Northeastern, Arizona State, Montana and Montana.  The following week, on Sept. 4-5, NM State plays in the Texas A&M Tournament going up against Wichita State, Abilene Christian and host Texas A&M.
The first home matches are during the co-hosted tournament with UTEP on Sept. 10-12.  The Aggies open the NM State-UTEP Tournament taking on Oklahoma on Sept. 10.  The Aggies face Robert Morris University and Brown University on Sept. 11 before wrapping up the tournament on Sept. 12.
"We are excited for the opportunity to play in front of our home crowd," said Jordan.  "We have one of the best crowds in the country and the team is always appreciative of the support we continuously get from the community."
The Aggies play in their final tournament before Western Athletic Conference play, Sept. 18-19 in Tucson, Ariz.  The tournament plays against host Arizona on Sept. 18 before facing Savannah State that same day.  NM State will face Texas, who is normally in the top 25, on Sept. 19, helping to prepare for WAC play, which starts on Sept. 26.
The first WAC game is at home versus the University of Texas-Rio Grande Valley (UTRGV), formerly Texas-Pan American, at 1 p.m. (MT).  The Aggies then play a non-conference game against in-state rival New Mexico on Sept. 29.
"The in-state rivalry has been very competitive the past few years and it is always a fun and intense atmosphere when we play against the Lobos," said Jordan.
The team heads back into league play facing Chicago State, Oct. 1 and defending regular season champion UMKC, Oct. 3.  NM State heads to Phoenix, Ariz. to face Grand Canyon on Oct. 8 and WAC Tournament winner Bakersfield on Oct. 10 before returning home to battle against Utah Valley and Seattle U on Oct. 15 and Oct. 17 respectively.
The Aggies host I-10 rival UTEP at home in a nonconference game at 7 p.m. (MT) on Oct. 20 before heading back out on the road to face UTRGV, UMKC and Chicago State in WAC action.  They return to the Pan American Center to take on Bakersfield on Nov. 5, and Grand Canyon, Nov. 7.
NM State will play Seattle U and Utah Valley during the weekend of Nov. 12-14 before heading to the 2015 WAC Tournament, hosted by UMKC, in Kansas City, Mo., Nov. 19-21.
The Aggies wrap up the season with a single nonconference game at UTEP on Nov. 25.
Four teams on this season's schedule made the NCAA Tournament last season.
NM State finished with a 17-11 overall record, including a 10-4 record in WAC play to finish in second place in the conference.  The Aggies entered the WAC Tournament as the No. 2 seed, but lost in the semifinal round in four sets to host and third-seeded Bakersfield which would eventually win the tournament.
| | | | |
| --- | --- | --- | --- |
| Date | Opponent | Location | Time |
| Aug. 22 | NMSU Alumni Match | Las Cruces, N.M. | 4 p.m |
| Aug. 28 | vs. Northeaster | n Colorado Springs, Colo. | 10 a.m. |
| Aug. 28 | at Air Force | Colorado Springs, Colo. | 7:30 p.m. |
| Aug. 29 | vs. Arizona State | Colorado Springs, Colo. | 5 p.m. |
| Aug. 30 | vs. Montana | Colorado Spring, Colo. | 11 a.m. |
| Sept. 4 | vs. Wichita State | College Station, Texas | 6 p.m. |
| Sept. 5 | vs. Abilene Christian | College Station, Texas | 10 a.m. |
| Sept. 6 | at Texas A&M | College Station, Texas | 12 p.m. |
| Sept. 10 | Oklahoma | Las Cruces, N.M. | 7 p.m. |
| Sept. 11 | Robert Morris | Las Cruces, N.M. | 11 a.m. |
| Sept. 11 | Brown | Las Cruces, N.M. | 7 p.m. |
| Sept. 12 | Denver | Las Cruces, N.M. | 12 p.m. |
| Sept. 18 | at Arizona | Tucson, Ariz. | 11 a.m. |
| Sept. 18 | vs. Savannah State | Tucson, Ariz. | 6 p.m. |
| Sept. 19 | vs. Texas | Tucson, Ariz. | 11 a.m. |
| Sept. 26 | *UTRGV | Las Cruces, N.M. | 1 p.m. |
| Sept. 29 | New Mexico | Las Cruces, N.M. | 7 p.m. |
| Oct. 1 | *Chicago State | Las Cruces, N.M. | 7 p.m. |
| Oct. 3 | *Kansas City | Las Cruces, N.M. | 5 p.m. |
| Oct. 8 | *at Grand Canyon | Phoenix, Ariz. | 6 p.m. |
| Oct. 10 | *at Bakersfield | Bakersfield, Calif. | 2 p.m. |
| Oct. 15 | *Utah Valley | Las Cruces, N.M. | 7 p.m. |
| Oct. 17 | *Seattle U | Las Cruces, N.M. | 1 p.m. |
| Oct. 20 | UTEP | Las Cruces, N.M. | 7 p.m. |
| Oct. 24 | *at UTRGV | Edinburg, Texas | 12 p.m. |
| Oct. 29 | *at Kansas City | Kansas City, Mo. | 6 p.m. |
| Oct. 31 | *at Chicago State | Chicago, Ill. | 12 p.m. |
| Nov. 5 | *Bakersfield | Las Cruces, N.M. | 7 p.m. |
| Nov. 7 | *Grand Canyon | Las Cruces, N.M. | 1 p.m. |
| Nov. 12 | *at Seattle U | Seattle, Wash. | 8 p.m. |
| Nov. 14 | *at Utah Valley | Orem, Utah | 2 p.m. |
| Nov. 19-21 | WAC Tournament | Kansas City, Mo. | TBA |
| Nov. 25 | UTEP | El Paso, Texas | 6 p.m. |
| Dec. 3-19 | NCAA Tournament | TBA | TBA |