Cruces sweeps Chapin 21, 22, 22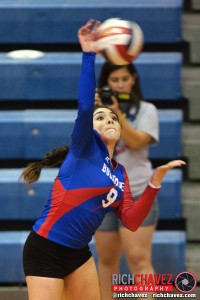 Traditionally, with more floor time under their belts, the El Paso schools have an easier time with NM schools at the beginning of the season. EP Chapin, coming to Cruces at 6-1, was the exception. Las Cruces, playing their first game, dominated Chapin throughout their match in all areas except serve-receive, and to a lesser extent their serve game.
Clearly the Bulldawgs have some work to do, but there were many highlights, including Celeste Cox's performance at the net. I haven't seen the Bulldawgs involve the MH position as effectively since Devon Mulheron's dominating senior performance in 2009.
Recent Riverside Tournament MVP, setter Aolanis Jusino racked up 27 assists, and OH Alyssa Lozoya lead with 9 kills.
Other scores
Tornillo 3 – Ft. Hankcock  2 (25-21, 25-20, 17-25, 19-25, 16-14)
Tornillo 3 – Faith Christian 0 (17, 15, 10)
EP Franklin 3 – El Paso 1 (13, 18, 15-25, 11)
Oñate 3 – Clint (TX) 0 (13, 10, 21)
EP Loretto 3 – Horizon 0 (10, 17, 18)
EP Bel Air 3 – EP Bowie 0 (18, 19, 23)
Socorro 3 – East Mountain 0 (15, 21, 17)