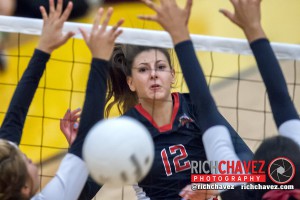 Coming into Tuesday night's contest, Coach Al Rosen was 1-3 against his former team, the Gadsden Panthers, but can now chalk up the total in the win column by sweeping Gadsden, 16, 10, 21 on Tuesday night.
Centennial's tour-de-force offense was hitting on all cylinders, as senior OH Savannah Bush racked up 15 kills/4 blocks and Jadyn Nañez picked up 11 kills/2 blocks. Both MacKenzie McGuire and Amanda Gill contributed 12 assists as the Lady Hawks kept the Panther on their heels for most of the night.
"We struggled. We struggled passing, and in volleyball if you can't pass, that's whats going to happen," said Gadsden head coach Priscilla Jaramillo. Gadsden did make a brief run in the third set with some consistency issues on the Centennial's side of the net, but their traditionally scrappy defense couldn't hold back the flood of offense.
Jaramillo and crew have their work cut out for them, heading to the Margaret Hussmann Tournament in El Paso this weekend, with heavyweights Franklin, Chapin and Cleveland in attendance. Even pool play will be a challenge with re-tooled Rio Rancho in the mix.