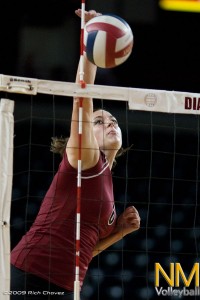 Written By: WAC Media Relations
DENVER, CO – The Western Athletic Conference volleyball coaches have selected Hawai'i to win its 15th-straight WAC regular-season crown in 2010. The coaches also voted on the preseason award winners and Hawai'i junior Kanani Danielson was the unanimous pick for WAC Preseason Player of the Year.
The Rainbow Wahine received eight of the nine first-place votes with New Mexico State earning the other first-place vote. Hawai'i earned 64 total points followed by New Mexico State with 57. Fresno State was picked to finish third with 44 points, followed by Utah State in fourth with 38 points. Boise State was picked fifth with 35 points, while Idaho was selected sixth with 32 points, just ahead of Nevada with 30 points in seventh place. Louisiana Tech and San Jose State rounded out the poll with 15 and nine points, respectively.
Hawai'i is coming off a 32-3 season in 2009 that saw the Rainbow Wahine earn their 14th-consecutive WAC regular-season title with a perfect 16-0 record. Hawai'i also captured its 10th WAC Tournament title and advanced to the national semifinals for the ninth time in school history.
New Mexico State placed the most players on the preseason all-WAC team with four, while Hawai'i had three and Nevada had two. Joining Danielson on the preseason team are teammates Brittany Hewitt and Dani Mafua, New Mexico State's Kelsey Brennan, Jennah DeVries, Kayleigh Giddens and Whitney Woods, Nevada's Lindsay Baldwin and Kylie Harrington, Boise State's Sadie Maughan, Fresno State's Brianna Clarke and Idaho's Kelsey Taylor.
All but one member of the preseason all-WAC team was named to the 2009 all-WAC team. Seven members were first team all-WAC honorees a year ago (Brennan, Danielson, DeVries, Giddens, Harrington, Mafua and Woods), while four 2009 second-team honorees are on the team (Baldwin, Clarke, Hewitt and Maughan).
The 2010 season begins the weekend of Aug. 27 with all nine teams in action. The 2010 WAC Volleyball Tournament will be held Nov. 22-24 at the Orleans Arena in Las Vegas and will include the top six teams in the regular-season standings. The championship match will be televised live on ESPNU.