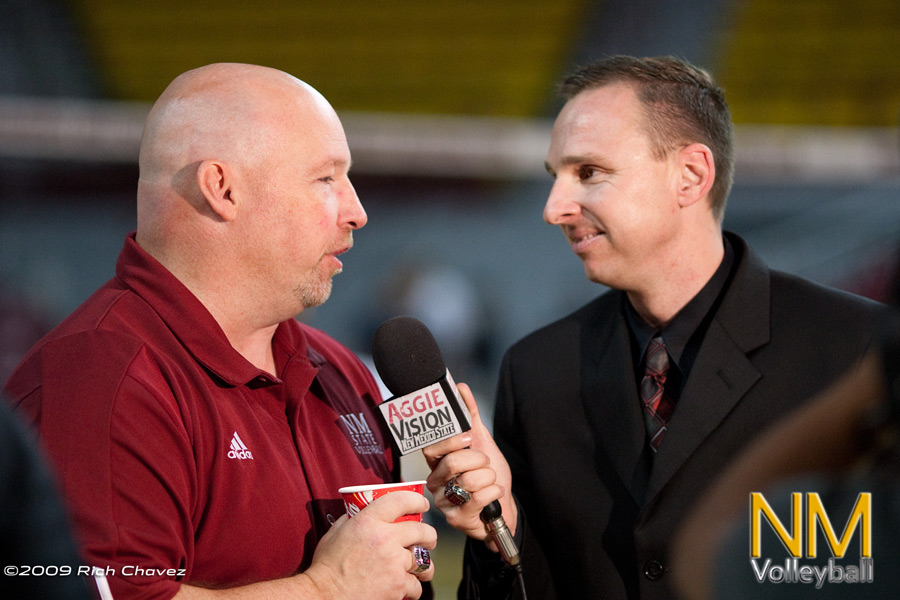 The Aggies are hitting the airwaves a total of eight times this season; seven on their NM State Sports flagship channel, AggieVision, and once nationally on ESPNU against none other than Hawai'i.
Mel the Volleyball Addict over at Bleed Crimson blogged about the recently released schedule, as well as a kick-off banquet on August 24th.
Written by the NMSU SID
LAS CRUCES (Aug. 6) – With the success New Mexico State volleyball and Aggie Vision have had in recent years, the Aggies are scheduled to play on TV eight times this season, including seven matches produced by Aggie Vision and one by ESPNU.  NM State played on TV eight times last season, which included the Western Athletic Conference championship on ESPNU.  The 2010 WAC Championship match is scheduled to air on ESPNU once again this season.

The Aggies first match to air on TV is set for a 7:00 p.m. (MT) when UTEP heads to the Pan American Center for the I-10 Rivalry Match, Friday, Sept. 3.  NM State was victorious in an exciting five-set match last season in the Pan Am Center. After the Battle of I-10, the Aggies face Hawai'i on ESPNU, Wednesday, Sept. 29, at 8:00 p.m. (MT) in Las Cruces. The Rainbow Wahine finished the 2009 season ranked No. 3 in the nation and the WAC rivalry has been one of the most exciting in the nation in recent years.

"We're excited to be on television as often as we are. The ability to showcase our program for such a wide ranging audience against great competition like Arizona and Hawai'i is great for our university and fans," head coach Mike Jordan said. "The fact we're on TV eight times or more in a season is a huge positive for us.  I get comments all the time from volleyball fans when I'm out recruiting how much they enjoy watching us on TV and how well done the broadcasts are.  It's a tribute to Aggie Vision and the job Kyle Doperalski does broadcasting the matches."

NM State faces Arizona, who was a 2009 NCAA Tournament participant, on TV as a part of the Aggie Vision Productions, Sunday, Oct. 3, at 5:30 p.m. (MT).  That match will be carried live, not only on Comcast, but on FSN-Arizona as well.

The matches against Boise State (Oct. 14), Nevada (Oct. 17), Fresno State (Nov. 14) and Utah State (Nov. 17) will all air live on Comcast throughout the state of New Mexico and will start at 7:00 p.m. (MT).  When the Aggies travel to Honolulu to face the Rainbow Wahine from the Stan Sherriff Center, volleyball fans in New Mexico will be able to catch the action live on Comcast.  The match is scheduled to start at 9:00 p.m. (MT).  The matches against UTEP, Boise State, Nevada, Fresno State and Utah State will also be tape delayed on FSN-Arizona.

Aggie Vision is a regional television network composed of affiliates such as FSN-Arizona, Altitude Sports, Comcast Entertainment Television and Time Warner Cable Metro Sports.  AggieVision broadcasts are televised in 12 state to as many as eight million homes, and viewers using Dish Network and DirectTV can also view Aggie events.  AggieVision produces games for football, volleyball, men's and women's basketball, baseball and softball.  The AggieVision team also produces a weekly show as well as many other productions such has "How To" segments where student-athletes give lessons on how to play their sport.

The Comcast affiliates in Las Cruces (Ch. 4), Albuquerque (Ch. 53), Gallup (Ch. 66) and Santa Fe (Ch. 21), along with Time Warner Cable-El Paso (Ch. 24), will carry the selected volleyball matches this season.  Go to www.NMStateSports.com for more information on AggieVision and NM State volleyball.