Hannah Syling is a talented senior outside hitter for the Tularosa Wildcats. She began turning heads in her freshman year, making her impact felt in what was at the time, a highly competitive District 5-2A. In 2009 Tularosa were kings of District 5-2A and almost the state, falling three sets short to a very seasoned Texico squad in the state championship game.
Expectations are high for the Lady Cats in 2010, as they shake off the nerves and take names in pursuit of the crown.
Off the court, there is talent as well; in the spring of 2010, Hannah participated in basketball with Tularosa, played club volleyball with the Diamondbacks, endured a grueling three hour round trip to Las Cruces and back, all while maintaining her perfect 4.0 grade average.  Hannah is a great example what can be accomplished with some hard work and dedication.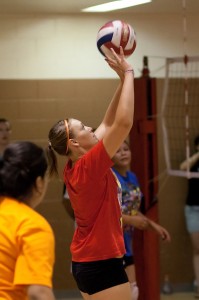 Last season, Tularosa lost to Texico in the state championship game. What did you come away with that?
That was the first time to ever make it to Albuquerque, so to make it there, and make it to the finals was amazing. I think we were so nervous, and the entire team felt the pressure. Coming in this year, we're already knowing what it feels like, so we'll be able to handle it a lot better.
What does Tularosa look like this year?
Our team actually looks pretty tough—I think well look tougher than last year, because we're coming in with a lot more experience, we're coming with a lot of years playing together.
How is Carli Jo (Brill – Tularosa setter) – what do you think of her as a setter?
I think she is an amazing setter. I feel like she does the best with every pass she gets.  The pass can be so far off the net or a shank, she always finds a way to get there and pop it up and somehow get it there for us to hit it.
This is your first year playing club, talk about your experience.
I think Don (Flora, NMSU assistant coach) is an amazing coach–his knowledge of the game is so much higher than any other coach I've worked with.  He's seen the best of the best; he knows how to make you the best. But overall, club was an amazing experience; the girls, the coach, the level of intensity—it's 10 times faster than what you play at 2A level.
What was it like playing with the likes of Rocio Gutierrez (El Paso Franklin/NMSU) and Jessica Groen (Mayfield/NC State)?
At first it was intimidating. It took me quite a awhile to finally play like I know I can play. You see how good they are and you get scared that if you make a mistake, they're going to get upset, because they're so good. So I was so scared about making a mistake, that I was playing timid and so worried about every little thing, but once I broke out of my shell, I was able to hang with them and do what they do. It was good for me.
Did you develop any special relationships with a particular player?
No, our whole team in club pretty much got close. Every weekend we're traveling together, going to practice together–we're all there for the same reason; because we love the game.
What was the most valuable thing you walked away with?
That's a hard one. I would say the knowledge and being able to play at a higher level. I never knew what that level was like–my defense has improved a lot and I didn't have a choice; I had to step up. I've gotten a lot better than I was last year.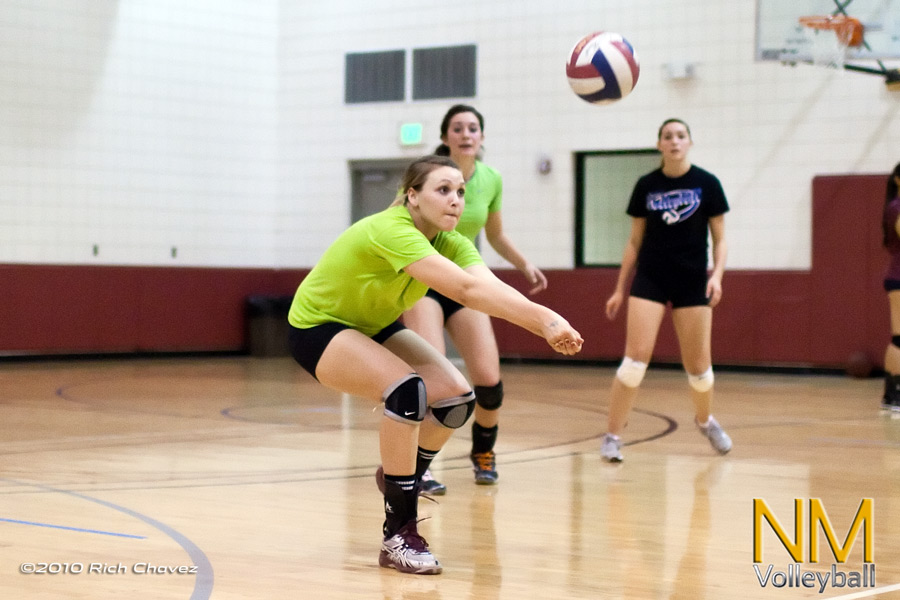 How was the Mike Jordan individual camp?
It was amazing! Every year I was working, trying to get into the elite group, which you play with the incoming (Aggie) freshmen and the older players, and I finally made it this year, and it was  a blast! I learned so much, and it was like playing club again, but for a camp.
I remember you were still a freshman and sophomore when Mesilla Valley Christian had the strong teams, and Tularosa was always gunning for them. How does it feel to now have a target on your back?
It's really not a problem to me—it's kind of motivated me more than anything. I want people to try to take me out, but I want to prove to them that you can't.
Is there any 2A teams on your radar?
I think for sure Texico is going to be our biggest competition. Other than that I'm not really sure what other teams have to offer.
How about Jal? You faced them in the semi-final last season.
We played them this summer at the Artesia camp, but they didn't have their middle, but they were playing at the same level they were last year. But it's hard to tell, especially because it's summer.
They took you five sets at the tournament?
Yes they did. They won the first two, and we had to come back to win the next three.
What are your expectations for the Tularosa squad this year?
To be state champions! I really think we have the team, and the heart to do it.
How about personally?
Win district, make the north-south all-star team, continue to get the awards in the past; just keep up with them.
What do you like to do in your spare time?
Hang out with my family and boyfriend when I'm not busy with sports. I also love to swim!
Hannah at a Glance
Prep Volleyball
Prep: Tularosa Wildcats (OH/DS)
Club: Diamondbacks VBC (OH/OPP)
Athletic Awards
District 5-2A scholar athlete ('06-'09)
District 5-2A All District Team
NMHSCA All State Team ('07-'09)
District 5-2A Player of the Year ('08-'09)
Academics
G.P.A.: 4.0
ranked 1st in class of 65
National Honor Society
Photo Gallery