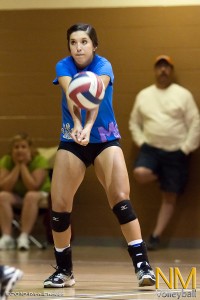 Hannah Syling interview
Be sure to check out my interview with Tularosa's Hannah Syling. Hannah is a perfect example of some of the great talent in the smaller communities in New Mexico.
El Paso schools hit the court
The El Paso Times is running a story on the El Paso area schools hitting the courts with the season starting today.
Read about the El Paso season beginning
Franklin ranked numero uno in Times Preseason Poll
El Paso Times has ranked their top 10 and talks to several key pieces of Franklin's team. Both Franklin and Coronado, traditional El Paso powerhouses are starting somewhat anew, but I'm a little surprised at their ranking of Coronado. I think by the time the Margaret Hussmann Tournament of Champions arrives, alot of questions will be answered.
Player-wise, a good representation of the city, including Megan Dominguez (Chapin, Wildfire – pictured above) and what will be the city's premier player Alexia Heist (Eastwood, Wildfire), who recently gave her verbal to TCU. Expect to read much, much more about her in the future.
Read about Franklin volleyball here
Franklin 32-7
Eastwood 23-8
Chapin 27-16
Americas 17-14
Coronado 32-8
Riverside 26-9
Hanks 27-10
El Paso 25-11
Burges 22-21
Jefferson 24-13
And their "Players to Watch"
Alexia Heist, Eastwood, junior, setter
Victoria Foster, Franklin, senior, outside hitter
Marisol Macias, Riverside, senior, blocker
Francquee Acosta, Americas, senior, outside hitter
Madelynne Cera, Eastwood, senior, outside hitter
Cassie Smith, Franklin, senior, middle blocker
Megan Dominguez, Chapin, senior, libero
Fenix Calderon, El Dorado, junior, outside hitter
Naili Woelper, Franklin, junior, right side hitter
Desiree Diaz, Clint, junior, libero
Jeorgina Balderrama, Chapin, senior, setter
Amanda Sianez, El Paso High, senior, libero
Jasmine Bryant, Canutillo, senior, middle blocker
Elizabeth Bear, Jefferson, senior, setter
Devon-Rose Perez, Del Valle, senior, setter