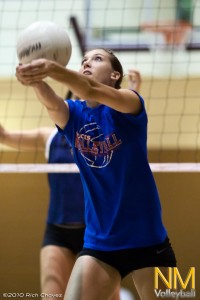 Chapin, Coronado drop Odessa High
Coronado schooled Odessa high in the art of the comeback, while Chapin just plain schooled the Lady Bronchos in their opening matches of the season.
Chapin knocked Odessa around 25-19, 25-14, 25-15.
When Coronado had their turn, the mighty Thunderbirds lead by Rose Diaz's 24 kills,  overcame a two set deficit to win the match, 16-25, 16-25, 25-15, 25-14, 17-15.
Read about the Odessa losses at OAVarsity.com
Aggies competing for playing time
Jason Groves at the Las Cruces Sun-News talks to Michael Jordan about the competition for the open spots on the team.
Read about the Aggies vying for the open spots
El Paso television station KTSM covers Chapin's opening game
The fine folks at the El Paso NBC affiliate, KTSM, ran a story on Chapin. The following is a transcription of the story.
Courtesy KTSM
Monday, August 9:  The Chapin Volleyball team opens the regular season tonight at Odessa.  It's a new season all across the board for the Huskies, who welcome in new head coach Joe Morales, who led El Paso High to 8 district titles in 10 years.  "Actually, it's been quite a change, but a good change", said Morales. "A new atmosphere, a new attitude, girls are working real hard.  The desire, the hunger… You can tell that they are hungry for new leadership, and a new desire for this program."   Senior Libero Megan Dominguez added, "For the past three years, we have gone threw [sic] a lot of coaches. So many coaches, so now it's good to have a good coach, a stable coach, and he comes from a good background, so I am excited and glad for the younger girls who have an opportunity to be with him. It's great, and definitely hard, sweating all the time. We're giving it all we've got, so it's good, definitely ready for the season."

Tonight, Chapin defeated Odessa High and Permian High to start the season 2-0.  On Tuesday, Chapin will face Midland High and Midland Lee.
KTSM also covered El Paso High last week
I would be remiss if I forgot to add the coverage El Paso High and coach Alarcon received from the same TV station.