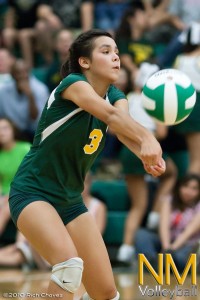 Mayfield falls to Americas in three
The Trojans let their nerves get to them in this one, losing in three straight sets, 22-25, 17-25, 19-25. Callie Chamber lead Mayfield with 11 kills, and Allyson Lucht, improving each game, racked up nine kills.
Rocio Ramirez looked pretty solid at libero.
Up next for the Trojans: Franklin!
Coverage of the Mayfield-Americas game in the Las Cruces Sun-News
Coronado downs Chapin
Coronado's Rose Diaz had a good night against Chapin with nine kills and 24 digs.
Read El Paso Times' coverage about Coronado's victory.
Chapin's Dominguez commits
Speaking of Chapin, Felix Chavez of the El Paso Times has reported that Megan Dominguez has committed to Texas Tech. Congrats Megan!
Goddard volleyball looking to re-invent themselves
The Chaves County Sports Report posted an article on the Goddard squad and their push for a new identity. After a successful season in 2009, they've got a lot of work to do.
Visit CCSR.com for the full story.
Journal reports Lobos unhappy about ranking
The Journal is running a story about the UNM's reaction to being picked fourth in the conference, and the fact Taylor Hadfield, an honorable mention All-American last year, was overlooked for the All-MWC team.
View the story on the Journal (subscription is required)
Scores from last night
Franklin over Las Cruces: 25-20, 25-22, 26-16
El Paso Hanks beats Oñate: 27-25, 25-22, 25-17
Daily Dig Player of the Day
"What's with the pictures of random players on these articles?" you ask? I pick a NM or El Paso player to feature on the Daily Dig articles to recognize their hard work and commitment to the game; they deserve it.
Have a story you'd like to share? Send it my way, and I'll include it in the Daily Dig.