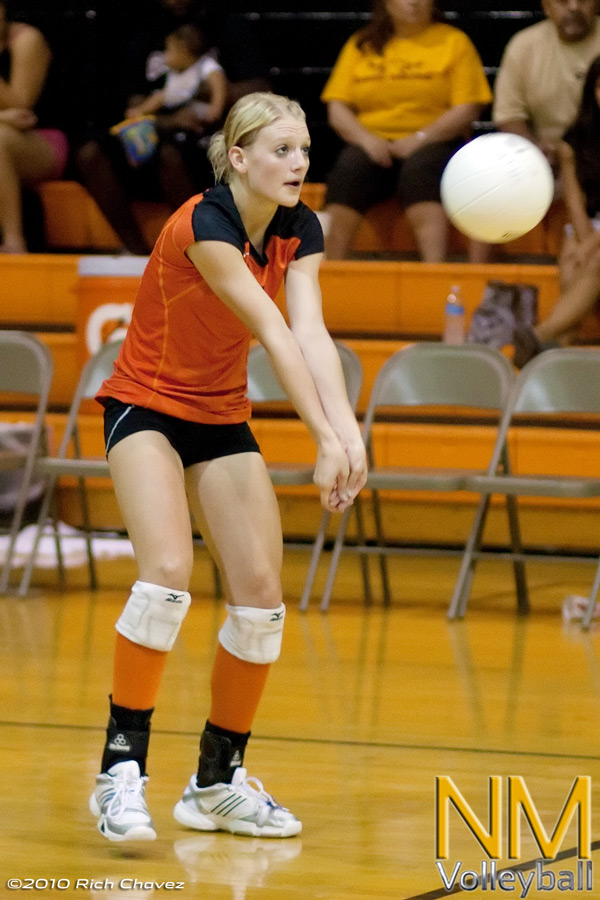 El Paso Irvin takes down Andress
You might recall that we discussed the Times cover El Paso Andress' successes in yesterday's Daily Dig. It looks like the Irvin squad didn't get a chance to read the article, as the Rockets came back from being two sets and crushed the Eagles.
Read about Tuesday's Irvin/Andress match in the El Paso Times.
El Paso coaches face off
In a game of musical chairs we briefly covered earlier this season, El Paso head coach Yesenia Alarcon will now face Chapin head coach Joe Morales as a district rival. Chapin will host the Lady Tigers on Friday night, in a battle of undefeated District 1-4A teams.
El Paso proved to be a very determined team at the Sweet 16; they'll need to muster all that determination overcome the athleticism and talent of the Husky squad. Playing against their former coach just might do that.
Read about the Morales/Alarcon matchup in the El Paso Times
Tonight's Schedules
For me, the obvious must-see game is the Rio Rancho/St. Pius match-up tonight; No. 2 in Class 5A taking on No 1. in Class 4A. Some good hitters on both teams, including Jayla Trombley and Lexi Biondi on the St. Pius squad.
Another must see is the Silver/Deming game. Before the re-classification, this was a great rivalry–expect the rivalry to continue. Now in 3A,  No. 10 Silver will be pitted against a very underrated Deming team.
| | |
| --- | --- |
| 4:00 PM | Clayton High School vs. Raton High School |
| 6:00 PM | Hobbs High School vs. Artesia High School |
| 6:30 PM | Capital High School vs. Highland High School |
| 10:48 PM | Del Norte HS vs Valley HS |
| 4:00 PM | Silver High School vs. Deming High School |
| 4:00 PM | Estancia High School vs. Cuba High School |
| 4:30 PM | Fort Sumner High School vs. Dora High School |
| 5:00 PM | Newcomb High School vs. Shiprock Northwest |
| 5:00 PM | Pine Hill at To'Hajiilee |
| 5:00 PM | Temple Baptist Academy vs. Menaul High School |
| 5:00 PM | Hagerman High School vs. Loving High School |
| 5:30 PM | Floyd |
| 6:00 PM | Lake Arthur High School vs. Gateway Christian High School |
| 6:30 PM | Rio Rancho High School vs. St. Pius X High School |
| 6:30 PM | Los Lunas High School vs. West Mesa High School |
| 6:30 PM | Albuquerque High School vs. Albuquerque Academy |
Who belongs where?
I still get a little confused about the new classifications, but it's comforting to know I'm not the only one. Last week, as "Joe" pointed out, the NMHSCA made a mistake regarding Volcano Vista. In today's Albuquerque Journal, under the "Polls" section, Silver is listed as having received votes in Class 4A (12 votes–way to go!). They are again listed as being No. 10 Class 3A, with 11 votes (way to go, again!).
Meanwhile, NMAA has Magdalena listed as a 2A school (District 3) and NMHSCA and the Journal are listing them as "Receiving Votes" in Class 1A.
Other links