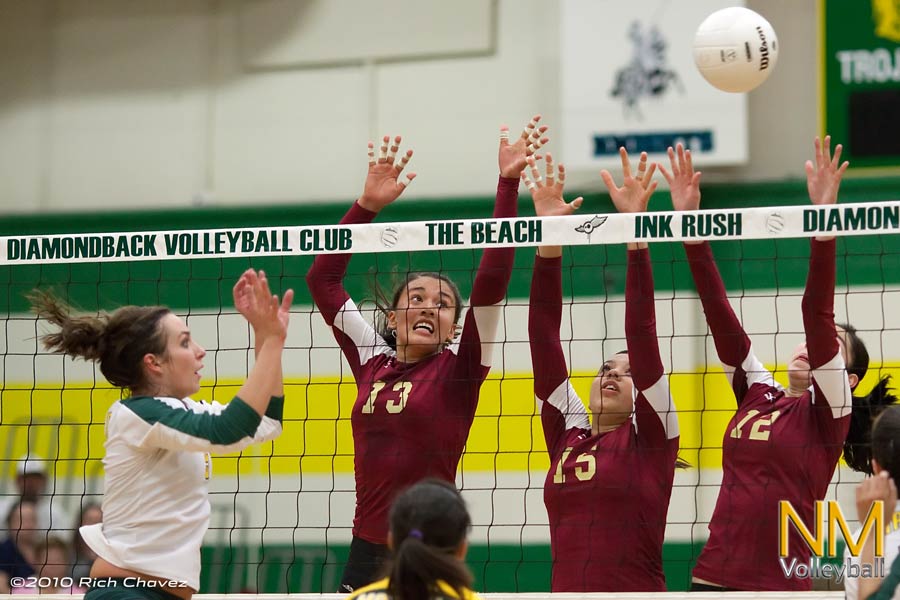 Mayfield falls to Gadsden
It turned out to be "The Gadsden Show," on Tuesday night, as the Lady Panthers dissected Mayfield's game in three sets: 25-15,  25-7, 25-16.
"I was pleased with it. I knew they would be fired up to play with us, especially after Sweet 16," said head coach Al Rosen.
Nathalie Castellanos racked up a game-high 21 kills on the night, but more importantly, were the lack of errors on the night for Gadsden; five service-errors and seven hitting errors on the night. Those stats are great for many teams, but you can bet Gadsden will work harder on lowering those numbers.
Offensively, the Trojans were slow to start. Callie Chambers led Mayfield with five kills, three of them coming in the final set; a little too late for the Trojans. I initially thought Marcela Hanroit, the 6′ 2″ transfer would have an impact on the game, particularly on defense, but Gadsden simply played around her. Hanroit finished the night with two kills and one block to her credit.
Things don't get any easier for Mayfield as they host Rio Rancho on Saturday afternoon at 2 P.M.
St. Pius: No problems with Academy
One of my "games to watch" ended in a sweep, as the Sartans bounced Academy in three: 25-19, 25-16, 25-20. Sara Weber ended the night with 14 kills and five blocks, Lexi Biondi donated eight kills to the cause, Lauren Roveto had six and Hannah Grazda had five kills and five blocks. Jasmine Serna had 34 assists and Felicity Jackson chipped in with 17 digs.
No doubt playing at home helped the Sartans in this match.  That, and the fact that St. Pius had faced some rather stiff competition from around the state in the Volleybash last week. With their next match against Academy set for October 21st, they still face a good challenge with Moriarty coming up.
Meanwhile, it's back to the drawing board for the Lady Chargers, who also face Moriarty in the next week. This team definitely has the talent, and I expect them to make it more of a game when St. Pius pays them a visit.
Cleveland drops Lady Matadors
The Storm swept Sandia, 25-21, 25-14, 24-23 on Tuesday night. Sara Hattis contributed 15 kills and four blocks, while Courtney Lawson had 11 kills and two blocks.
Lordsburg puts the hurt on Mesilla Valley
Another game I picked that didn't turn out quite like I expected. Finally getting into district play with a chip on their shoulders, the Lady Mavs swept the SonBlazers on Tuesday and made a statement about their team. I did, however, predict the effectiveness of middle Kristine Estrada who finished the night with 19 kills.
Lordsburg is looking to get shot at the Lady Wildcats this weekend in Tularosa, and while coach Armando Rosales doesn't think the Mavs have quite realized their full potential, he thinks by the end of October his squad will be a force to reckon with in district play.
Tularosa sweeps the Bears
Speaking of District 6-2A play, the Wildcats handily disposed of Cloudcroft in three sets, 25-11, 25-21, 25-16.  Read about it in the Alamogordo Daily News.
Alamo fights back to beat Oñate
Alamogordo avoided both the sweep and starting district play 0-3 by coming back to beat the Lady Knights on Tuesday night. Read about the Lady Tiger rally in the Alamogordo Daily News.
El Paso Riverside continue winning ways
The Rangers had no problems knocking off district foes San Elizario on Tuesday night, sweeping them 25-7, 25-12, 25-18. Read about Riverside's victory in the El Paso Times.
Scores from last night
Santa Fe 3, Sandia Prep 1 (25-21, 25-18, 19-25, 25-19)
Tularosa 3, Cloudcroft 0 (25-11, 25-21, 25-16)
St. Pius 3, Albuquerque Academy 0 (25-19, 25-16, 25-21)
Volcano Vista 3, Manzano 0 (28-26, 25-13, 25-21)
Pojoaque 3, Hope Christian 0 (25-16, 25-21, 25-22)
NM School for the Deaf 3, Victory Christian 0 (25-15, 23-25, 25-22)
Rio Rancho 3, Eldorado 2
Alamogordo 3, Oñate 2
Valley Christian 3, Vaughn 2
Hatch Valley 3, Cobre 0
Mountainair 3, Menaul 0