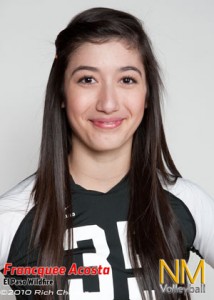 Francquee Acosta, El Paso Americas star outside hitter and the latest Wildfire player to sign on to compete at the next level, will stay in El Paso and play for the Miners.
According to the El Paso Times, Acosta had her choice between UTEP, Fordham, San Diego State and Hawai'i. Look for Francquee to compete for a starting spot and make an immediate impact.
Acosta still has some work to get done before she moves on; the Wildfire squad will be traveling to Atlanta at the end of June to compete in the Junior National Olympics.
Good luck!