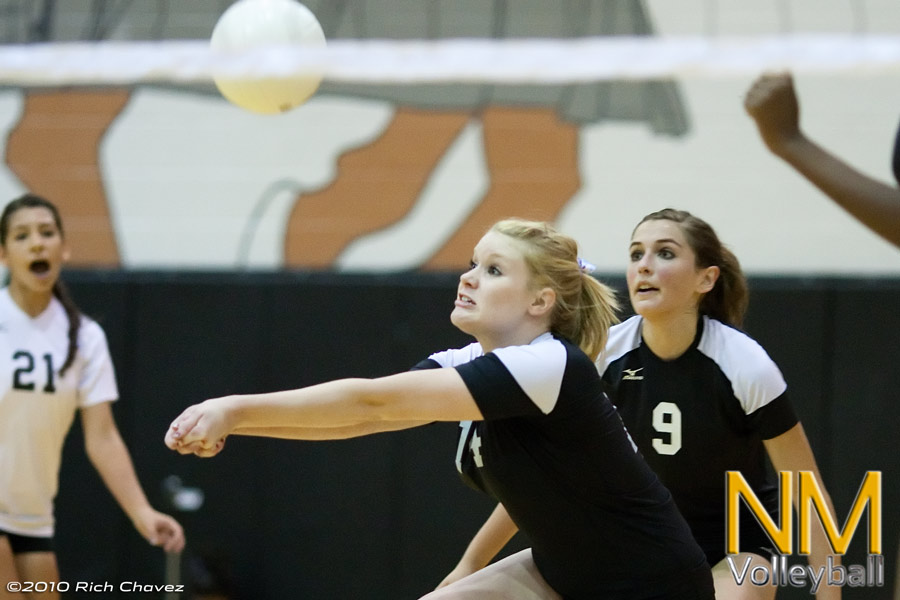 Will the real #2 please come forward?
Looks like #2 Tularosa beat #2 Estancia (Sept 8 NMHSCA 2A polls) in three straight sets on Tuesday night. An impressive win considering Tulie lost their setter, Carli Jo Brill at the Roswell tournament last weekend. Up next for the Brill-less Wildcats is the Mountain Top tournament in Cloudcroft, NM. This tournament should be a good one.
Portales sweeps Goddard
Portales swept defending 4A champs Goddard Tuesday night, 25-12, 25-13, 25-15, with hitter Macy Mitchell racking up 11 kills. Read the full story at CNJonline.com
Gadsden sweeps Deming in three
The feisty Deming Wildcats gave Gadsden a run for their money on Tuesday night, but fell in three sets, 25-20, 25-20, 25-17.
Other Results
Dexter over Mescalero Apache 3-0
Sandia Prep sweeps Highlands 3-0
Sandia over Volcano Vista 3-0: 25-16, 25-21, 25-20
La Cueva over West Mesa 3-0: 25-22, 25-4, 25-12
Eldorado over Moriarty 3-1: 25-12, 22-25, 25-23, 25-14
Kirtland Central sweeps Gallup 3-0
Santa Fe over Abq High 3-0
Abq Academy over Manzano 3-0: 25-14, 25-18, 25-13
Hagerman over Dexter 3-1
Tatum over Eunice 3-0: 25-10, 25-6, 25-22
El Paso Andress gets the treatment from the Times
Felix Chavez is at it again, covering the Andress Eagles. The Eagles, sitting at 14-3 have found some unexpected success so far this season. Check out the Andress Eagle article in the Times.
NMSU libero updates blog
Updated yesterday, Ellen shares her thoughts on the LSU tournament and the UNM game. Read Ellen's blog on BleedCrimson.net
Daily Dig Player of the Day
"What's with the pictures of random players on these articles?" you ask? I pick a NM or El Paso player to feature on the Daily Dig articles to recognize their hard work and commitment to the game; they deserve it.
Have a story you'd like to share? Send it my way, and I'll include it in the Daily Dig.