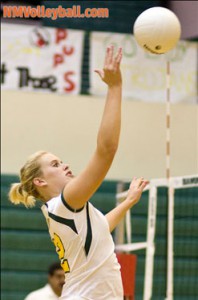 Former Mayfield standout Jessica Groen is on the move.
Groen has transferred to Campbell University, in Buies Creek, NC to play for the Fighting Camels. Approximately 30 miles from Raleigh, Campbell plays in the Big South Conference.  Groen will join the Camels as a redshirt freshman next season with four years of eligibility.
Groen attended Mayfield High School where she led the Trojans to a 5A state title as a junior in 2008, and also named New Mexico 5A state player of the year that same year.
Heavily recruited out of high school, Groen chose North Carolina led by Charita Stubbs, with hopes of seeing some action on a very young team. Unfortunately Stubbs was fired in the off-season and her replacement, Bryan Bunn, opted to lay the foundation of his new program with transfers, forcing Jessica to redshirt.
Groen will be one of eight newcomers to the program that went 10-17 last season. Losing eight letterwinners from last year, head coach Leigh Mullins is stacking up the tall hitters, with three of the signees  (including Jessica) standing at 6′ 2″.
To learn more about Jessica's move, visit the Campbell Fighting Camel website.