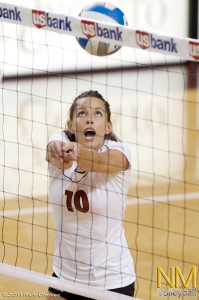 Courtesy NM State SID
DENVER – New Mexico State senior setter Jennah DeVries has been named Western Athletic Conference Volleyball Player of the Week for the week of Sept. 5-11. This is the first-ever WAC Player of the Week honor for DeVries.\
The Sedalia, Colo. native earned CenturyLink Premier Tournament MVP honors after leading New Mexico State to the tournament title by defeating four teams in two days.
"We played a tough schedule in San Marcos (Texas), basically playing back-to-back matches each day," head coach Mike Jordan said.  "DeVries did a good job of leading the team to four victories and I can see her continuing to improve as the season rolls along."
DeVries tallied two double-doubles, averaged 12.07 assists and 2.93 digs and set her team to a .246 hitting percentage over the four matches. Her first double-double came in a four-set win over Northwestern State when she posted 47 assists, 12 digs and four kills. She followed that up with her second double-double of the weekend against host Texas State, when she tallied a season-high 51 assists while adding 15 digs and four kills. DeVries currently ranks second in the WAC with 10.77 assists per set and has six double-doubles on the year.